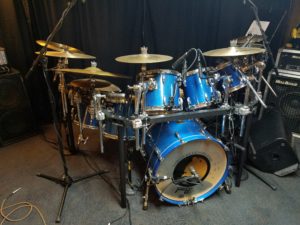 Big Boppa is a Maple Pearl Master Custom kit I bought in late '96. I also use Zildjian cymbals.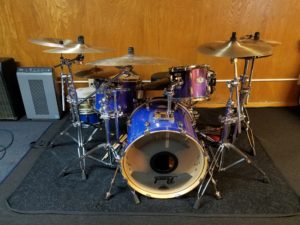 Little Boppa is a Pearl Birch Vision Series kit I bought in 2009.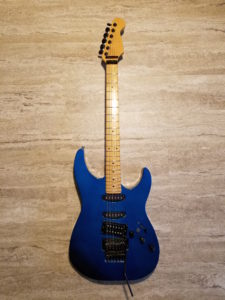 Boo is a modified Kramer Focus 6000 I bought in '89. It used to have the hockey stick shaped original neck and headstock. I hated it so I put an all maple Lecito neck on it. I had a number of pickups installed over the years. Currently the neck and middle are Seymour Duncan Quarter Pounders and the bridge position is an Allan Holdsworth Seymour Duncan which was discontinued on the market shortly after I had it installed in 1990.
Darkie is a Fender Floyd Rose Classic Strat.  I bought this axe in '96 around the same time I bought Big Boppa the blue kit. This is all original off the rack.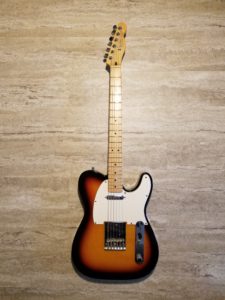 This is a nameless Mexican Tele a close friend of mine gave me for an indefinite time recently in 2015. I used this guitar on my recording "Any Old Time To Get Away".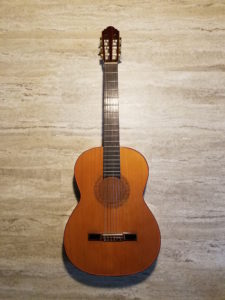 This is a Hopf nylon string that a friend of my father's found in a pawn shop in Los Angeles. It is a wonderful bold sound that I find louder than most nylon stringed guitars. The sound holes are on opposite ends of the bridge plate while the traditional sound hole is an embroidered style wooden carving. A brilliant piece of art that sounds very round and full of body without amplification.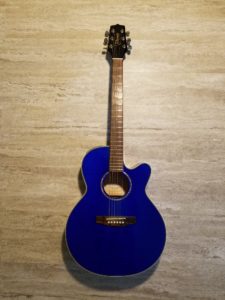 Pretty is a standard Takamine EG540C. I never had a steel stringed guitar and found it useful on some recordings buried way in the back such as on "Today".  Steel strings sound very harsh and common to me so I really didn't have a taste for the sound until I was in my seasoned years LOL!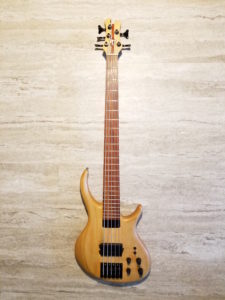 Woody is a Gibson made Tobias Growler. I grew up on the Fender Jazz and Precision bass sounds. I decided to get this 5 string because my music really needed the sound of the low B string. This bass can mimic the sound of  the Jazz and Precision basses as well as a Music Man and then some with an added GROWL. I bought this bass kind of by accident. I walked into my local music vendor in 1999 and a salesman showed me a few of these that were marked down. Gibson  manufactured Tobias basses for a little while until Tobias later restored its brand.