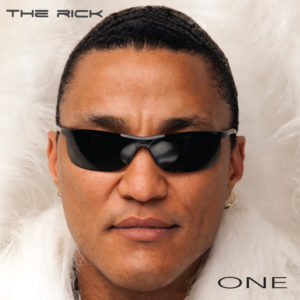 One was completed in my spare time between November 2010 to November 2012. I worked with Garaj Mahal, Steve Coleman, Matt Garrison and Tribute To Miles (Marcus Miller, Herbie Hancock, and Wayne Shorter) during the time I worked on the CD.
I was on the road working with my band Garaj Mahal in 2008. I moved around a bit in the DC area and stayed in NYC for a few months to figure out where I was going musically with my career which at the time seemed dead. Most of my contacts in NYC were in the instrumental jazz scene so I found it hard to come close to where I wanted to be in rock. I bought a laptop and the other components over the next two years making up the home studio I have now. I had my new studio in place and began tracking One in November 2010 in Gambrills, MD. Garaj Mahal played our last show New Year's Eve 2010/2011 in Nelson, Canada.
I had already begun laying the foundation for two months recording drum and bass tracks for One so I was pumped to get back East after that last Garaj tour and continue production. The great thing about making One was being able to record as I did in the days of analog. The only difference was the signal chain went to a friggin' computer instead of a reel to reel. I'm not one to sit there and auto correct or pitch correct tracks. I tracked and kept what I actually sang and played. I used real drums, real guitars, guitar cabinets, and good ol' fashioned microphones. I didn't loop anything and performed everything in the studio as I would perform a live performance. I can't stand keeping a jillion takes so I tend to go for one of the first three takes and move on. There were weeks when I constantly worked on tracks from sun up until late night. Then I would take a week or two off and come back to it and so on.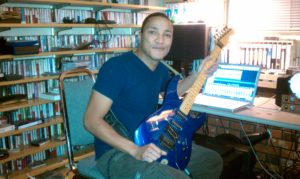 One became a process in which I gained confidence in my music. I continued recording the album throughout 2011. There wasn't a sense of urgency to get the album completed but there definitely was an urge to have it finished within a year's time. I went on a European tour with Tribute To Miles in the summer of 2011. Then after a vacation with my daughter I returned to the studio in the Fall and knocked out the vocals the remaining year. In December 2011, I recorded the last song Happiness and the album was completed.
In March 2012 I mixed One in a few weeks and then for the next month I did a string of European dates and recording sessions in NYC with Steve Coleman. Around this time I started working in NYC with Matt Garrison at his venue Shapeshifter Lab where he features live acts and hosts multi-media internet broadcasts. By August 2012 I mastered One and in October I began the process of printing and distributing it.
As artists we're our own worst critics. The recordings we make are never sonically scrutinized by the public as we do. It's all about getting the material out the door and moving on. Working on my first CD release while also working and traveling with other artists on their respective recordings created a necessity to compartmentalize my time and efforts for making sure I completed One without the pressing issue of corporate time constraints and limitations. I relaxed at an eased pace making the CD during and around all the other events in my professional life because I wanted the music to sound as relaxed as my intentions were.
One gives me an identity and a brand which I always refer to as "Super Rock". Music can edify and encourage. The songs talk about my personal relationships, my daughter, my discussions with Jesus, my ups and downs, God, the world I live in, and the realities that are hard to face as the song Happiness tells. I wanted an album that represents me. Telling the story where I was, when I was and where I want to go. This album takes you places sonically, visually and spiritually.
Today, I look at One as my major first step as a solo artist. This album introduces me to the world. I don't have a favorite song and they all seem very difficult to perform but in the end, it's fun.
Produced by The Rick
All Songs written by Sean Rickman ©2012 
All Vocals and Instruments performed by The Rick
Keyboards on "Our Love", "All Around The World" and Melodica on "Always" performed by Federico Peña
Recorded at Zone One Studios in Gambrills, MD
Photo album credit: Frank Dene: Act of Light LLC