Zoo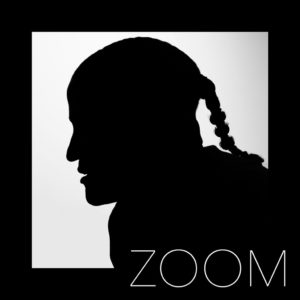 m is The Rick's 2nd album release. Featuring 11 songs at 47 minutes in full length.
Zone One Studios moved to West Hartford, CT in January 2015. Tracking for this album began in May 2015. The first thing on my mind was to do a follow up to One as soon as I got a song list together which took the longest time. There were songs that were added at the last minute and songs that were considered and then taken off the list then put back on. A lot of flip flopping was happening and at times it kept me up at night just thinking about what songs to put on this album. The funny thing is the album sort of made itself over time. And then when I did the rough mixes around April 2016, I finally felt I had a complete body of work. I also took suggestions from close friends about a few songs to feature as well.
The older songs that needed new versions for Zoom were Winna, Back Corner Door, One Nite, The Man and Another Trip. These songs were written when I was between the ages of 18 and 20. During those times in the late 80's to the early 90's, popular music ranged, as always, from smart to ignorant. Being a black rock artist was not and still is not the most widely marketed thing. Producers always wanted to stick their hands all over my music and turn me and my music into some silly fest I could never get with. Nowadays, I realize how fortunate I am to be alive and have survived all that nonsense I thought I needed to be in back then. My style of writing mimicked the dream band I pieced together in my head. You can hear some Stevie Wonder, Jimi Hendrix, Eddie Van Halen and Jaco Pastorius all together in this dream band. I didn't intend to literally do this. Those artists had major impact on The Rick's early life. Most of all, the songwriting aspect of these artists and many others had the biggest impact on my life.
Change, Hey Baby, Thing, Like, and sposed 2b reflect where I am as an artist presently as they were written between 2008 and 2016. You get the whole journey on this album from 1989 – 2016. The way the newer material mixes with the older material shows the same vision in all of the music. Lyrically, I cover topics ranging from Jesus Christ to my personal life. The songs aren't focused on carousing and living carelessly. They basically tell a story of a spirit that yearns to mature. I could have easily been distracted with historical events that occurred during my life and written lyrics about those things, however I find a lot more inspiration coming from Scripture and how that affects my personal life. This subject nowadays doesn't exist in pop culture yet has always been at the forefront of my mind.
Any Old Time To Get Away written by Jef Lee Johnson is a song I liked the minute I heard it. It's from his album Laughing Boy (2003). I've been hip to Jef since 2001 but I put him in my bucket list because the little I had on him wasn't my go to. For some reason I kept him in special consideration and that was no mistake. When I heard his album Blue (1996), I was floored. I didn't hear it until 2011. I slept on this album. That means when something really dope comes out and it's completely under my radar. The songs on Blue are brilliant. The lyrics nod at Hendrix. Then there's Jef the player. He's right up there with Hendrix, Edward and Allan Holdsworth in my opinion.
Technically, making Zoom was challenging. I don't have a room to isolate my guitar and bass cabinets. My family needs a good night's sleep while I work in my downstairs studio late nights like a busy bee. The only instruments that were recorded with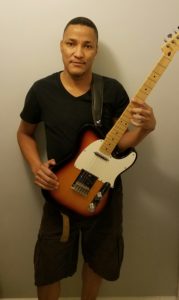 microphones on Zoom were my live drums and vocals. I record drums and vocals fairly fast during the daylight hours. I spend a lot more time on the guitars and bass at night. Although, our kids love the drums and pretty much whatever I do in the house there is no way I could subject them to those Mesa Boogies especially on school nights. Guitar and bass cabinets need to be very loud to deliver great tone and sustain so until I build an isolated shack just for that purpose, I have to use guitar amp modeling. Shucks, I can't even be in the same room with the guitar cabs when they're roaring like a Harley Davidson.
There's no pitch correction and absolutely no editing on these recordings. What you hear is what happened from beginning to end on each song.  I come from the world of analog tape so my brain is still wired that way in the digital world. No cutting and pasting either. When you actually perform everything, it's a real performance. The special parts happen. Each verse, chorus and bridge have their own character and color.
Our guest musician is Osam Ezzeldin who played the keyboard solo on Changes. I imagined the song being the continuance of Our Love. I met Osam in March 2015 in San Francisco working together in a band in progress.  It was only natural that he be featured on Zoom.
My co-producer, Andrew, is a buddy of mine that I used to be in a few bands with and perform live. Andrew contributed a lot to this album in helping it get finished and finished with my musical vision intact. He put his thing on the album while maintaining the integrity.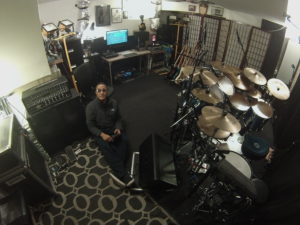 We always wanted to make an album together. His studio is in Haymarket, VA which is an hour outside of Washington DC where I'm from. I basically tracked everything at my home studio up in West Hartford, CT. Then I went down to VA to mix. Andrew was able to clean up things and put them in their proper places. I asked him to give the album some production sparks and events when needed and he delivered.  Producing this album with Andrew allowed me to loosen up and give this album some different ears. Andrew used his personal production techniques to help this album sound better.
Produced by The Rick & Andrew
All songs written by Sean Rickman ©2016 except
"Any Old Time To Get Away" written by Jef Lee Johnson ©2003 Malinda Davora Music ASCAP
All Vocals and Instruments performed by The Rick
Keyboard solo on "Change" performed by Osam Ezzeldin
Recorded at Zone One Studios in West Hartford, CT
Mixed at Andrew's House: www.andrewshouse.us
Photo album credit: Leslie Lausch: www.leslielausch.com